Finn created a wonderfully inspiring Bleuprint Challenge, which is our version of sketch challenge you can find on our "message board here", and in "our gallery here", or on "Facebook here".
HERE'S FINN'S STORY HOW SHE WAS INSPIRED:
Hi ladies - hope you are having a great weekend coming and find some time to get inspired and create!
I'd like to show you what inspired me last days... well... it was my last shopping (I know we all love shopping, right?)

So, one day, running through the shop i bumped into the Fabric Department, where I saw metres and metres of yummy, colourful patterned fabricks - and I fell in love with those stripes, those reds, greens, blacks.. so I grabbed the scissors and I bought that day a bit of inspiration for myself!

Later at home I looked through it again...and that's how my today's Bleuprint looks like:
Later I realized that it has a lot in common with THIS... (do you feel inspired even more? I do
)


And that's how my layout was created. I took the fabricks, my sewing machine, a collection of my old clothes labels (I collect the nice ones for later usage
) and a funny photo of me and my hubby. What I wanted to get was that "Denim style" with all the buttons , brads and eyelets and to show here the fun of shopping together, especially the moment when i show him to pretty blouses or skirts and ask: which one shoud I choose? And he usually says...well, take two...
(how sweet
)


Inspired? I had great fun creating it especially there aren't many scrapbooking supplies in this layout - 2 rub-ons and 2 washers (or something similar)a bit of paint and some brads and the rest are fabrics, labels and sewing supplies
Here's how our members have interpreted her Bleuprint so far:
by Sarah Elliot
Took my color inspiration from the Photo itself. Spring at the Sugar Bush is all muted brown trees, white snow and soft-blue sky. Using almost all paper, thrilled to be able to use some I had from an album kit. Cheat I am!
I knew it all coordinated already. Also used very little 'lumpy' embellishments, 2 word grommets (cherish & beauty). some regular & blue bling brads and a bit of brown rope blanket trim.
I loved all the spaces and spots for things in this BleuPrint!
Go ahead... give it a try!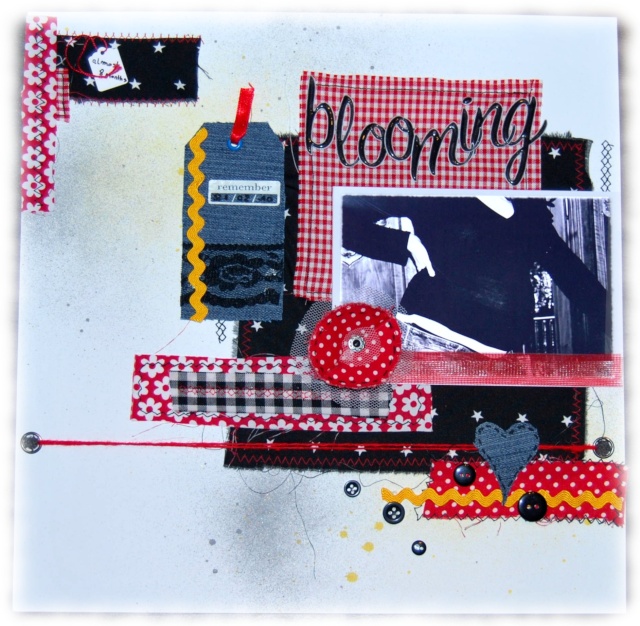 Layout by Jess
I took my inspiration from the colours of Finn's layout and just added a touch of yellow.
The only scrapbook items on my layout are the rub-on on the tag and the thickers Alphabets used for the title.

I'm looking forward to see what the Bad Girls will do with Finn's inspiration!!
Layout by Vicki Flinchum
I just LOVE Anna's Bleuprint! I was inspired by the sketch and the Tommy colors ( I adore primary colors!). I went with a photo of a classic car at a B&B (my DH & I were staying at.. our car too). I loved that Anna went with fabrics and fasteners as a reflection of her photo and the story behind it. So I went with MAN things! ...demin, ads for tools and sprots equipment, rivets, staples, flannel, polo shirt.....

And here what I came up with! Thanks Anna for the awesome inspiration.
Layout by Lesley Langdon
I was inspired by the colours, white background and white space. The clean look of the images. I pulled the black, red, blue, and green from the Tommy picture, and the fabric idea from the photo (I made sure to use fabric-like ribbons). Of course, I used the sketch as inspiration as well!

Hope you can play along too!
Visit on our "message board here", and in "our gallery here", or on "Facebook here".
Love this post?
Subscribe to My Blog with Google or with Bloglines