Come one come all!! Calling you Bad Girls! Are you bad--- enough? You'll be asked to reach out of your box once again, as well as look deep inside!!!!

One lucky random drawing winner

for Challenge #3

will receive a $20 Gift Card to

shop

like

a

Bad

Girl

in the cherished Bad Girls Boutique! (We have decided to rotate prizes.) Sound intriguing? We give you the rules below- just 6 steps! *

Challenge 3

–

Paper Mache Blank

(any shape or subject, usually craft store item)
Theme

–

Self-Portrait

(

about you, present/past/future, serious or fun, etc…)

Required material

–

Found Objects

(junk drawer stuff related to theme/story)
First, here is my interpretation on the challenge (Paper Mache/Self Portrait/Found Objects) for your inspiration
I made a paper mache art doll for my self-portrait. I thought for days on this challenge before I started this project, and even did an art journal page on it. I even started making a torso of my own body like a belly cast yet I just wasn't feeling it, and then Tania showed us her magnificient fairie torso below, and I took it as a sign that I ought to abandon my torso for now for the creative challenge of seeing what I could brainstorm up instead. And I love the new result.
The doll body was constructed from a toilet paper roll for the torso,
and a wad of newspaper rolled into a ball for the head,
taped together with masking tape.
I used straws for the arms and legs,
I punched a hole into the body for the legs and arms with my Crop-a-Dile
Instead of using newspaper for paper mache, I used vintage music paper, vintage sewing patterns, and vintage book pages
I made a 1-part flour to 1-part water mixture for the paper mache glue, and let each layer dry overnight
The eyes and mouth were made on Claudine Hellmuth's Sticky Back Canvas, cut out and applied
The background behind her is also paper mache, made on a cardboard mailer. The newspaper article is about me, written several years ago, an interview I gave on hybrid scrapbooking when I was Creative Editor of Scrapbook Dimensions Magazine
For her hair, I took 10 thin strips of fabric, tied a smaller strip of fabric around them at the top, then adhered one end at the crown of her head. I repeated this about 15 times. Then I tied various floral charms and beads to her hair.


Tools used: Martha Stewart Butterfly Punch; GlimmerMist by Tattered Angels Mist and Screens; Punchella; Acrylic Paints; Stickles glitter glue; Copic marker; oil pastels; water, flour, gloves Please see the forum for further tutorials on my paper mache art doll!
NOW IT'S YOUR TURN!
*

Challenge 3

–

Paper Mache Blank
(any shape or subject, usually craft store item)
Theme

–

Self-Portrait

(

about you, present/past/future, serious or fun, etc…)

Required material

–

Found Objects

(junk drawer stuff related to theme/story)
1. You must leave a comment here on this blog post (not my blog) with one word that describes YOU
3. You must use the theme Self-Portrait

(

about you, present/past/future, serious or fun, etc…)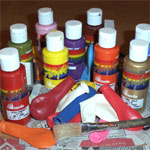 Author:

Jackie Hall

***********************************

This delightful tutorial will give you invaluable help in making yourself a lovely papier mache doll.