Today's
DARE
comes from our newest darer, Amanda!! We are soooooo thrilled to have her on the team – you may know her as TaylorMade Designs over at Oscraps!
THE DARE:

Change is inevitable. But "change" in its own right is not something I deal with very well. Even changes that totally benefit me can send me straight into a fetal position. Why is that??? Hahaha.

I would like to see a layout that portrays
change
in your life and what it means to you. How does it impact you? Do you welcome it? Do you seek it out? Do you hide from it? Do you react to it at all? How does its impact on you affect those around you? Dig deep. Be honest. Think back (or ahead) and really focus on your thought process. Focus on what you may have learned from change or any tendencies you may have when change is taking place around you. Then, boldly express that in a layout. (All participants get a 50% off coupon to our sponsor's store -details on the blog at
http://www.digidares.com
)

Dare Flares:

You must include a title and some type of journaling.
You may use however many photos you like… even ZERO. (*Personal and stock photos are acceptable.)
Use at least one clipping mask. (clip paper or photo… or simply use as is)
Use at least on ink, glitter, or paint spatter.
Have fun and be EXPRESSIVE!
Now for some inspiration from the dare team!

Amanda's Layout:
credits:
glitter splat – jennifer fox (polkadotplum)
pop swirl clipping mask – fei-fei's stuff (oscraps)
view finder 12×12 overlay – paislee press (oscraps)
alphabet soup stamped alpha – emily powers (oscraps)
Barb's Layout: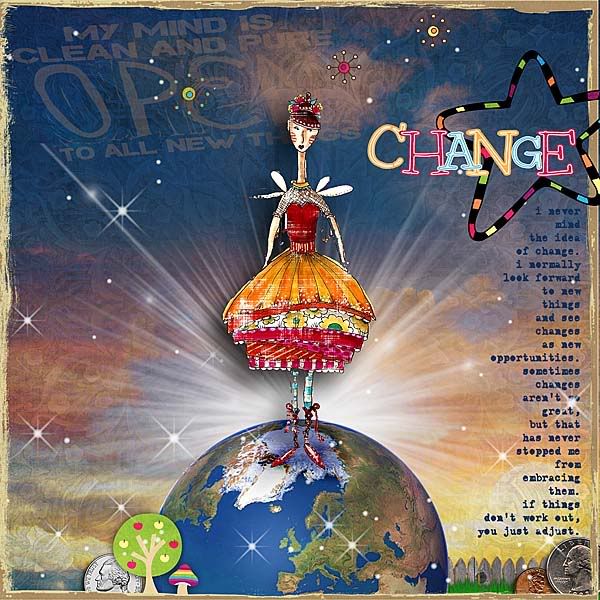 Background paper: Flying Dreams kit by Lorie Davison
Girl: Happy Girl A2A mini kit by Wish Bliss Studio (Danielle Donaldson)
Title alpha, tree, mushroom, star, fence, and sky doodles: Under the Rainbow kit by Jennifer Fox
Damask Overlay: French Couture Overlays by Gypsy Chick
Globe and coins: Downloaded from the Internet
Starburst: Cosmic Glow by Amy Hutchinson
Word Art: Happy Place Affirmations by Danielle Donaldson
Twinkles: Fairydust 2 by Jennilyn Designs (retired)
Grungy Edge: Stand Up and Scrap collab
Font: Old Typewriter
Christine's Layout:
Credits:
Beige Like Me & In The Moment by One Little Bird @ Catscrap.
Story Tellers Vol. 1 & Let's Date: Square Stamps by Jennifer Fox Designs @ Polka Dot Plum.
Fun Stripes Alphas by Designs by Lili @ The Lilypad.
Fonts are Idolwild and Another Typewriter.
Valorie's Layout:
Credits:
Oh So Studious by Jennifer Fox and Wild Dandelions
Scribble by Sahlin Studio
Sandra's Layout:
Tape Alpha by Amy Teets
Steamer Trunk by Tangie Baxter and Amanda Sexton
CU Paint Overlays Vol 2 by Simply Scraps
Paper Washes by Christina Renee (retired)
I Robot by Sausan Designs
and My Layout:
Journaling:
2009 was a memorable year for us. It was a year of getting used to being together, both of us working at home, being underfoot of each other, yet having the ability and freedom to travel at will. It took some work, it still takes some work to balance the power and peace in our household. That was our first full year of you being home. And then the next major change that I am in denial about is that Marti has left our group of scrapbooking friends, as Kristin did too, moving South. We are still in touch on Facebook so it seems like she is not far, like I said I am in denial. Facebook has changed my life a lot this past year, for the better, bringing me full circle with my childhood friends. I wish for balance.
Credits: Leave Your Mark, Clip It Alpha, Composure, Mere Modesty by TaylorMade; Say It With Sparkle by Jennifer Barrette; m.m._theblues_glitterstroke; Maszyna Royal Dark
Good luck scrapping this week – don't forget to post your layout by 10 pm EST next Thursday (upload it to a gallery and link to the Digi Dares blog!