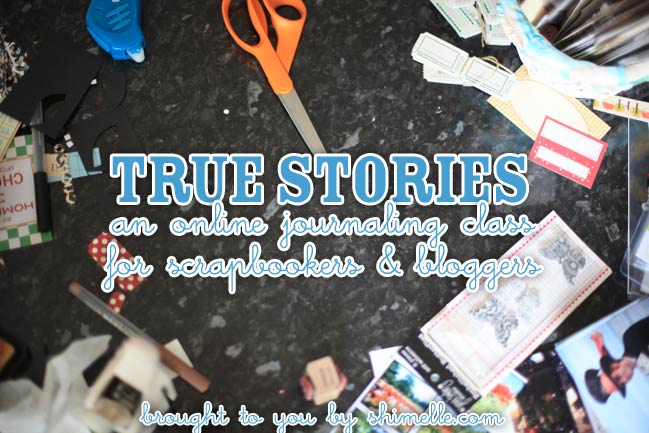 Tomorrow, Monday, I'm starting shimelle's online class
True Stories
! From shimelle, "
True Stories
has no deadlines so you can take your time and let things fit your schedule.
True Stories will given you dozens of ideas for writing and make it easy to write creatively so you can tell your stories - whatever they may be - on your scrapbook pages, blog entries or notes you choose to keep for your eyes only.
True Stories features a team of amazing
scrapbooking guest stars
who will encourage you to use the supplies you have on hand to add that crafty edge to your storytelling. And a special guest writing expert who has great advice to share. And some insight from some well-known bloggers and writers who can tell you about how and why they write.
True Stories includes fifteen prompts and a few surprises along the way -- more than 150 pages of material and 100 brand new scrapbook pages. All delivered straight to your inbox, starting tomorrow!
If you enjoyed Blogging for Scrapbookers, Something from Almost Nothing or Journal your Christmas, this class is a natural addition to pick up where we left off. Or if you have never taken an online class but would love to get more from your writing, be it for your blog, your scrapbook pages or a letter to an old friend, you'll love this adventure. Here's just a tiny bit of a
preview
- but that's just to get us started!
Enjoy This Post?

Subscribe to My Blog with Google or with or with Bloglines