Reblogged from Say It With Letters
Calling all Crafters!
I have some exciting news! Say It With Letters is one of the sponsors over at the
'1 month 2 win it' site!
Hot off the tails of 'So You Think You're Crafty', four of the contestants from that competition have started '1 month 2 win it', a crafting competition. You can visit the site for more details on how to enter or even just to see the projects. I'm excited to see the talents of the crafty peeps. Anyone can win it!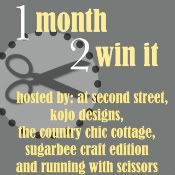 Do you think you can make the cut?
What is it?
One Month to Win It is a monthly craft competition that anyone can win!
How do you join?
Audition info can be found
here
. For Season 1 (held in March), the auditions will be on
The Country Chic Cottage
February 9th through 16th. Watch for a linky party!
The judges will pick 11 contestants from the audition and the 12th contestant (The Wild Card) will be chosen via randomizer.org. Yep -- anyone can win this competition!
Wanna learn all about the judges?? Head on over
here
and read all about us!
Yep there will be prizes....you will have to stay tuned to find out what! SIWL is one of the sponsors. :)
Ready to join in the fun?
Be sure to follow
One Month To Win It
to keep up with the competition! And get your projects ready to link up at the audition starting February 9th at
The Country Chic Cottage
! Grab a button and tell your friends! The more the merrier!

Enjoy This Post?

Subscribe to My Blog with Google or with or with Bloglines